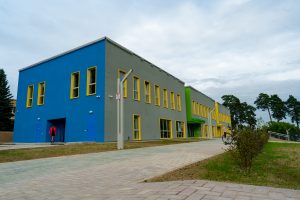 The private educational institution "Concord Secondary School" is a unique school with in-depth study of the English language from the first grade, where the principles of the classical education system and modern author's methods are combined.
Also, the "Concord" school is implementing a new approach to teaching, based on the comprehensive development of the personality and harmony between the student, teacher and parents. By the way, "Concord" is translated from English exactly as "consent". This concept is reflected in the logo of the Concord School. Two English letters "C" turned to each other and connected symbolize unity, connection, harmony! Concorde means agreeing for the best.
The school's logo is also reflected on the Concord flag. This is a white cloth with two yellow lines rushing towards each other on a gray background. The white color of the cloth symbolizes openness, purity of thoughts and intentions, as well as pedantry in studies. Yellow color is a symbol of activity, vigor, desire for activity; it is a color that brings joy, gives a feeling of warmth and comfort. Gray means calm and stability. The gray lines in the composition of the school flag denote a path, a road along which the two objects – a student and a teacher – strive towards each other. Their goal is agreement and mutual understanding, the fruit of which is a comfortable coexistence and achievement of high academic results.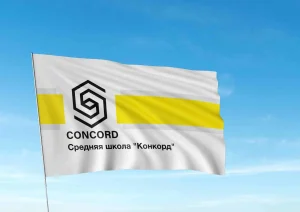 At the Concord School students will be able to additionally study Chinese and Spanish, master programming, robotics, web design. Also, for the Concordians the school will  organize groups for the development of mathematical thinking, etiquette lessons, a theater studio, a fine arts studio, tennis training, and the study of martial arts.
The self-study hours organized at the school allow students to complete their homework or prepare for projects on the school grounds and under the supervision of teachers. Additional classes in school subjects will be an excellent substitute for tutors.
A varied menu and dishes from high-quality products of our own production will please the students and deserve the approval of parents. The school has its own kitchen, the production capacity of the food unit is 514 dishes per day. The school provides 4 meals a day: breakfast, fruit brake, lunch, afternoon snack.
From June 12, 2021, the acceptance of documents for the 2021/2022 academic year has been organized at the private educational institution "Concord Secondary School". The school accepts students from grades 1 to 11. Before enrolling in Concord School students at all levels of secondary education are interviewed with a psychologist.
You can sign up for an interview with a teacher-psychologist at the Concord School by the phone number:
+ 375-33-33-333-54
The cost of training in the 2021/2022 academic year is 1250 Belarusian rubles per month for all classes.
The price includes tuition, attendance at extracurricular activities, school tutor service, 4 meals a day, school camp during the autumn, winter, spring holidays.
Payment path to ERIP – Education and development – Kindergartens, schools – Schools – Mogilev – Private educational institution "Concord". For payment you must indicate the number of the contract, for example, No. 1